The world of graphic design is more alive than ever before and brimming with new incredible designers. In today's blog, we thought it would be great to discuss some of the big names in the industry, both past and present, and discuss 5 graphic designers you should definitely know about.
Saul Bass – The man behind the movies
The past is one of the greatest sources of inspiration for future generations of graphic designers. Looking at pieces of work that moved the whole world to feel something is a real ode to the power of great design and reminds us how important it is. Saul Bass influenced the graphic design world in many ways and is behind a lot of the movies we love! Born in The Bronx in 1920, Bass went on to have a 40 year career that would encompass high profile jobs and eventually land him with the title of Oscar award-winning filmmaker and legendary graphic designer.
Your porridge this morning might have in fact featured a corporate logo Saul Bass had a part in creating! He worked with Quaker Oats to come up with that original friendly face. In addition to this Saul Bass worked on the United Airlines, AT&T Corporation and General Food's logos.
Whilst he was very well known for those contributions, a large part of his work lay in the film industry. Bass worked on movie posters for films you'll know like The Shining and Schindler's List. He was also behind the recognisable fast moving text in the title sequence of the film Psycho!
Source: Wikipedia
Milton Glaser – "You must embrace failure."
If you've ever even heard of New York, we are certain you'll know a very famous piece of graphic design Milton Glaser gifted to the city. His ' I love New York ' logo became infamous after it was created for use in an advertising campaign to encourage tourism in 1977. You can still see this logo used in souvenir shops around the world and it is a prime example of the captivating work that Glaser did.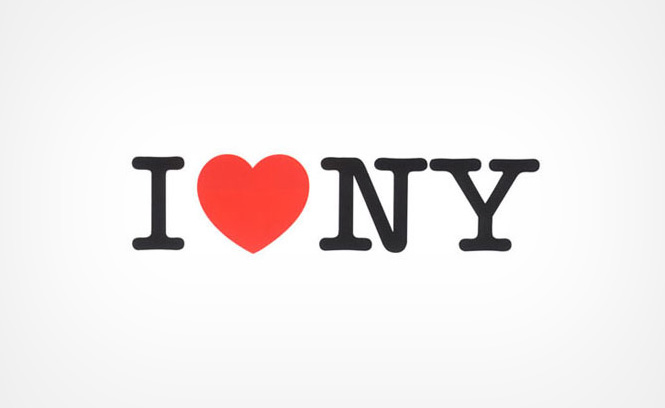 Source: Milton Glaser
Milton Glaser worked on the poster for Bob Dylan's Greatest Hits and went on to create a whole list of beautiful fonts including Art Decko, Eightway and Futura Stencil. Throughout his whole career, Glaser commanded attention with his intelligent designs and did much to contribute to the branding of companies known and loved to this day.
Jessica Hische – Imaginative illustrations and lettering
Jessica Hische is a modern day name worthy of your attention. Known particularly for her ability to create inspiring and imaginative illustrations enjoyed by children and adults alike, her work is childlike yet expertly executed. Hische's work also encompasses lettering that will make you swoon, and usually favours the bright and bold. 
It's very likely that you'll have come across logos that have been injected with new life by Jessica Hische having worked for famous brands including Eating Well, Southern Living and Eventbrite! Hische can recently be noticed for her impressive work on the book she released named " Tomorrow I'll Be Brave", which aims to teach children and adults valuable lessons literally through the art of storytelling.
Source: Jessica Hische
Kate Moross – Making a statement with colour
Kate Moross was born in London and did not fail to put her own stamp on the area. Her use of vivid colours and graffiti-style type paired with eye-catching images is really a feast for the eyes. In 2006, Moross began designing flyers for local clubs in her hand drawn type. That same flare for type and design would go on to land her commissions with world famous brands including Google, Disney, Nike and Kiehl's!  You'll know Kate Moross for works including her collaboration with Adidas to design envy-inducing trainers, Kiehl's branding and her collections with Disney!
Source: Kate Moross 
In addition to her branding and type work, Kate Moross often works on editorials. In these works we can often see every bit of colour we are used to in her designs, and brands get a real helping hand in standing out by the aid of her wonderfully eye-catching graphics. 
In this blog, we used examples from both the past and the present that inspire the team here at Design Cloud. Each graphic designer in this blog created work that moved the viewer to feel or act, and that's exactly what we aim to achieve in each asset we create for our clients. From helping your customers to take action based on a dynamic colour scheme or to trust your brand through professional business cards, design is really powerful. Each of these graphic designers has done so much to contribute to the industry we love and continue to inspire everyone with their work.
If you found this blog article interesting, make sure to share it and spread the word. We'd love to know your favourite graphic designers from the past and present too! 
Get all the graphic design your business will ever need for a simple flat rate fee.
Learn More